Streetcars Get the IMAX Treatment at Hot Docs 2018
The Trolley, a creation of award-winning IMAX filmmaker Stephen Low,
showcases the beauty, history, and impact of one of the greatest innovations in transportation.
Tuesday, March 20, 2018 (Toronto, ON) – Filmmaker Stephen Low, who has spent three decades producing and perfecting large-format cinema experiences, will have his newest project, The Trolley, debut as a Special Presentation at Hot Docs 2018. The Trolley propels audiences on a journey around the world to explore the power and potential of the trolley, tram or streetcar—a once nearly forgotten masterpiece of 19th century innovation. The film's stunning aesthetic and 'how-things-work' approach turn a streetcar ride into something extraordinary. Following the trolley's rollercoaster existence from 19th century invention to near extinction in the 1960s, the film focuses on Toronto as one of the only cities in North America to have retained an extensive streetcar network. The Trolley will have its World Premiere at the Hot Docs Canadian International Documentary Festival on Saturday, May 5 at the Cinesphere, Ontario Place at 3PM EST.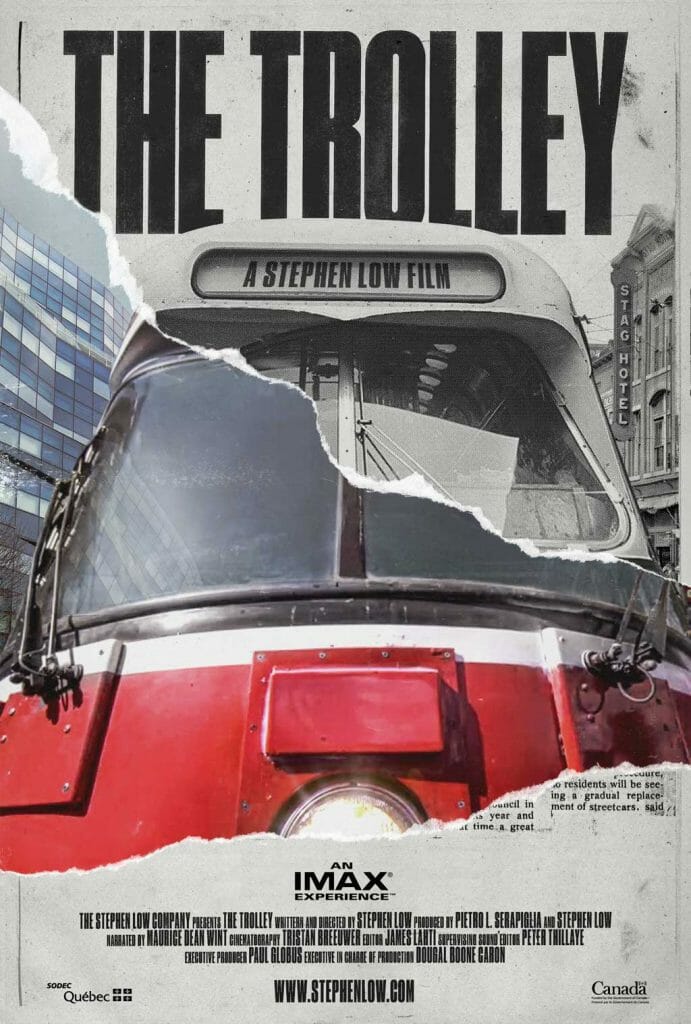 "The Trolley stares down the automobile. In climate change, humanity faces a global crisis that is in scale and complexity unlike anything we have encountered before, yet we already have the solutions. And one of them is staring us in the face," explains filmmaker Stephen Low. "I had to make this film to give streetcars their due. The film may prove especially poignant and nostalgic for Torontonians, given that streetcars (trolleys) have been these charming fixtures in the city since before we can remember. I hope we are able to give people a look at how and why they evolved – and I hope that the film helps humanize the transit system that is so vital to our lives and future."
Can the trolley triumph? This film is sure to stimulate passions in its viewers. Showcasing surging urban machines from across of the eras, The Trolley evokes nostalgia, romance and adventure, but also underlines the dramatic transportation dilemma faced by humankind in an era of enduring auto-mania and impending climate catastrophe. In its visuals, its storytelling, its soundtrack, and its overall enchantment, the film is accessible and informative, elucidating the true and enduring magic of streetcars, including the red rockets that have been seen as both a point of pride and contention for so many Torontonians.
The Trolley has one Special Presentations screening at Hot Docs Canadian International Festival, in IMAX: Saturday, May 5 at 3PM EST, Cinesphere, Ontario Place
Links
Find out more about The Trolley here: The Trolley
Find out more about Hot Docs here: hotdocs.ca
Clippings
New documentary a 'love letter' to streetcars and trolleys – [FEATURE]
CityNews
By: News Staff
Published on: March 20, 2018
Toronto's Hot Docs Festival reaches gender parity with 2018 lineup – [MENTION/SOUNDBITE]
The Globe and Mail
By: Barry Hertz
Published on: March 20, 2018
Hot Docs Finally Achieves Gender Parity with 2018 Lineup – [MENTION]
Exclaim!
By: Josiah Hughes
Published on: March 20, 2018
Media
An IMAX press screening will be held in advance of the Hot Docs festival.
Please contact AlphaPR to RSVP and for details.
Media inquires:
Sophie van Bastelaer, AlphaPR
+ 1 647-901-6416
sophie@wearealphapr.com
Amy Saunders, AlphaPR
+1 647-282-0269
amy@wearealphapr.com