Synopsis
The Trolley propels giant screen audiences through the great cities of the globe to tell the story of one of civilization's most remarkable inventions. Step aboard the talented electric trolley for a ride across the eras and through thirty-nine cities and sixteen countries…
Perfected in the 19th century workshop of American inventor Frank Sprague, the first functional electric trolley was embraced as a miracle of the electric age—a device that could rid streets of suffocating piles of horse manure and flies and even re-invent civilization. And it did.
The electric streetcar, tram or trolley was a ride that changed everything. Across a century-and-a-half, trolleys carried billions of people to work and play and home again. Gifted with extreme efficiency and an egalitarian outlook, the device helped revitalize and re-build the urban landscape.
Created expressly for giant IMAX® screens The Trolley propels audiences on a kinetic, electrifying and music-charged journey through great cities across the globe, revealing the trolley's own roller coaster ride: from humble birth to explosive, world-transforming success, to near obliteration in the automobile age, to its technological renaissance in the 21st century. From the trolley's kinetic vantage, we witness a century and-a-half of explosive change and discover the hidden magic of the trolley itself.
In Theaters—(where to see The Trolley)
The Trolley had its World Premiere at the Hot Docs Canadian International Documentary Festival on Saturday, May 5 at the Cinesphere, Ontario Place, Toronto, Canada. (For more info, see The Trolley World Premiere).
For theater locations: Where-to-see The Trolley
Director's Statement
The Trolley stares down the automobile. In climate change, humanity faces a global crisis that is in scale and complexity unlike anything we have encountered before, yet we already have the solutions. We have technological tools at our disposal to tackle greenhouse gas emissions head-on, we just don't seem able as individuals and as a society, to change our behaviour.
The Trolley focuses on one key area of greenhouse gas production—the spectacularly wasteful urban transportation evident in almost every city in the world—and shows how we once embraced the perfect solution and then threw it away.
High-friction rubber-tired vehicles powered by internal combustion engines (or even batteries) trapped in gridlock, carrying only one or a few passengers, make no sense from a carbon-emissions standpoint, yet our society has embraced this gizmo fetish with a wild fervour. We are continually buying and selling and subsidizing the twin myths of the automobile: personal freedom and technological utility, yet in clogged urban arteries in a disintegrating environment, the car offers neither.
The Trolley delivers an alternative sales pitch: a plea for shared transportation, equal access, electrical efficiency and the proven frictionless physics of steel wheels on steel rails. The electric trolley is so yesterday, but it needs to become our tomorrow.
—Stephen Low, Filmmaker
[ A Bit About Stephen ]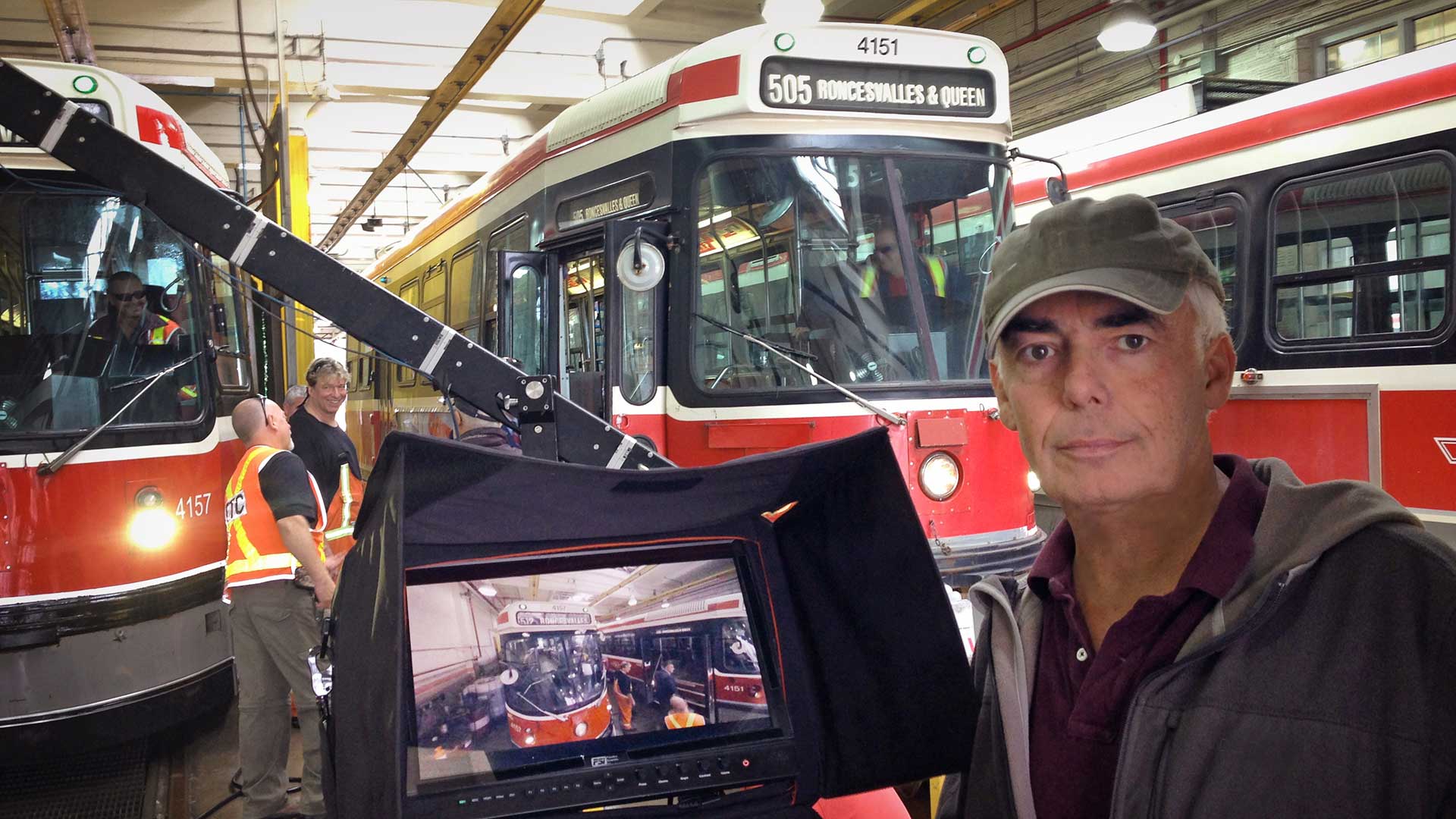 Theme & Inspiration
A Tale of Cities. As a child growing up in Montreal in the 1950s, filmmaker Stephen Low had an opportunity to ride the streetcar with his father, before that city scrapped its streetcar lines in the early 1960s, replacing them like many North American cities, with buses and with raised highway networks and vast numbers of cars. Living and working in Toronto in the 1980s and 90s, Low would get an opportunity to reconnect with the streetcar and wonder at its talents and persistence in a fast-growing, car-dominated metropolis. Why could some cities keep their trolleys and some not, and what did this mean for urban dwellers and the future of cities and indeed, civilization? With people in love with their cars, even talking about better alternatives has remained a social challenge—one the filmmaker has felt driven to address.
Geared for giant screen exhibition in museums and science and technology centers globally, The Trolley addresses the history and technology of public transit and the evolution of cities—from the perspective of the electric trolley.
Many cities have had their own particular trolley experiences, yet in many ways, the story of the electric trolley is universal, epic and in the view of the filmmaker, critical to the future of humankind. The trolley, tram or streetcar, as it is variously called, has been much ignored, even forgotten. By telling the story of the trolley as a single, century-and-a-half rollercoaster ride of innovation, achievement, near extinction and renaissance, the film reveals how society, gripped by a growing and persistent auto mania, has drastically undervalued the enormous efficiencies and benefits intrinsic to this 19th century invention.
What kind of public transit is available to you? And what is the carbon footprint of your community? Electrified rail systems (trolleys, trams, light rail) offer unique potential for reducing greenhouse gas emissions while maintaining public mobility in a carbon-constrained world.
Does your community have a history with electric trolleys and what is the future of this technology in your area? Take the ride via the giant screen and explore the past and future of getting around.
The Production
Locations and Shooting
To capture the epic scope of the trolley story meant going to where the trolleys run. The Trolley was shot over more than two years, with the production team filming in Toronto, Geneva, Lyon, Montpellier, Marseille, Nice, Milan, and Hong Kong, as well as Seattle, Dallas, Houston, San Diego, Los Angeles and Pasadena. Altogether, using live action footage and archival imagery, the film depicts a wide range of trolley technology in some 39 cities in 16 countries. Hong Kong offers double-decker trolleys consistent with the city's extreme verticality. Milan boasts iconic wooden trolleys from the 1920s still serving its citizens. Some run station-to-station as light rail, others sweep down grass-covered boulevards, stopping on demand, or brave the sleet and snow as in Toronto.
The Toronto Story
Toronto became a focus in The Trolley because of the city's enduring connection with the technology. The city's first electric trolley began running in 1892 and Toronto is one of the only centers in North America to develop and maintain an extensive network to the present day, despite detractors and actual plans in the 1960s to scrap the system.
Filming in Toronto was undertaken throughout the Toronto Transit Commission (TTC) system and included the classic and still ever-present red rockets (1977-present), the PCC cars (1938-1995) and the wooden Peter Witt trolleys that operated from the early 1920s into the 1960s, as well as the manufacturing and introduction of the new Flexity tram. Shooting also included filming at the Bombardier assembly plant in Thunder Bay as well as at The Halton County Radial Railway (HCRR) operated by the Ontario Electric Railway Historical Association (OERHA).
Format
The film weaves together live-action trolley journeys and urban street scenes with computer graphic reconstructions, maps and aerials. A wide array of archival footage and restored photographs help relate the remarkable history and changing fortunes of trolleys around the world. Filmed for presentation in IMAX and other giant screen theaters, the project was captured principally in ultra-high definition digital, with some scenes shot on classic 15perf./65mm motion picture negative.
About the Project
Running time: 45-min.
Director: Stephen Low
Producer: City of the Future Films Inc. / The Stephen Low Company
Distributor: Stephen Low Distribution Inc.
Formats: Available in IMAX® laser digital 2D and all digital 2D theatrical formats
Toronto, ON Milton, ON Thunder Bay, ON Calgary, AB Portland, OR Seattle, WA Dallas, TX Houston, TX San Diego, CA Los Angeles, CA Pasadena, CA Geneva, Switzerland Montpellier, France Marseilles, France Nice, France Milan, Italy Vienna, Austria Berlin, Germany Brussels, Belgium Hong Kong
Cities represented in archival stills or footage:
Richmond, VA Queens, NY Brooklyn, NY New York, NY San Francisco, CA Long Island, CA Chicago, IL Saint Petersburg, Russia Munich, Germany Cologne, Germany Dresden, Germany Blackpool, England London, England Lancashire, England Southampton, England Cork City, Ireland Shanghai, China Cairo, Egypt Hanoi, Vietnam Hiroshima, Japan
Media
Clippings
Interview with filmmaker Stephen Low about
The Trolley
[FEATURE/INTERVIEW] – audio clip
CBC Radio
Here and Now
, Toronto Broadcast on: May 23, 2018
Director Stephen Low on his new doc The Trolley, the beauty of streetcars and shooting on IMAX
– [FEATURE/INTERVIEW]
Globe and Mail
By Barry Hertz Published on: April 30, 2018
'The Trolley' documentary explores the history of light-rail vehicles
– [FEATURE/INTERVIEW]
CityTV
Aired: June 1, 2018
'The Trolley' gives Toronto streetcars their long-deserved closeup
– [FEATURE/REVIEW]
Toronto Star
By Ed Keenan Published on: May 3, 2018
Hot Docs 2018 Review: The Trolley
– [FEATURE/REVIEW]
Scene Creek
By Dani Saad Published on: April 28, 2018
The Trolley
– [REVIEW]
The Gate
By Andrew Parker Published on: June 1, 2018
The Trolley: Genius Invention Gets Love from IMAX Treatment
– [FEATURE/REVIEW]
Original-Cin
By Liam Lacey Published on: May 4, 2018
New documentary a 'love letter' to streetcars and trolleys
– [FEATURE]
CityNews
By: News Staff Published on: March 20, 2018
Toronto's Hot Docs Festival reaches gender parity with 2018 lineup
– [MENTION/SOUNDBITE]
The Globe and Mail
By: Barry Hertz Published on: March 20, 2018
Hot Docs Finally Achieves Gender Parity with 2018 Lineup
– [MENTION]
Exclaim!
By: Josiah Hughes Published on: March 20, 2018
Media Contact
Media inquires:
Sophie van Bastelaer, AlphaPR + 1 647-901-6416 sophie@wearealphapr.com Amy Saunders, AlphaPR +1 647-282-0269 amy@wearealphapr.com