The Film
The Trolley propels giant screen audiences through the great cities of the globe to tell the story of one of civilization's most remarkable inventions.
Step aboard the talented electric trolley for a bell-ringing musical ride across the eras and through thirty-four cities and fifteen countries.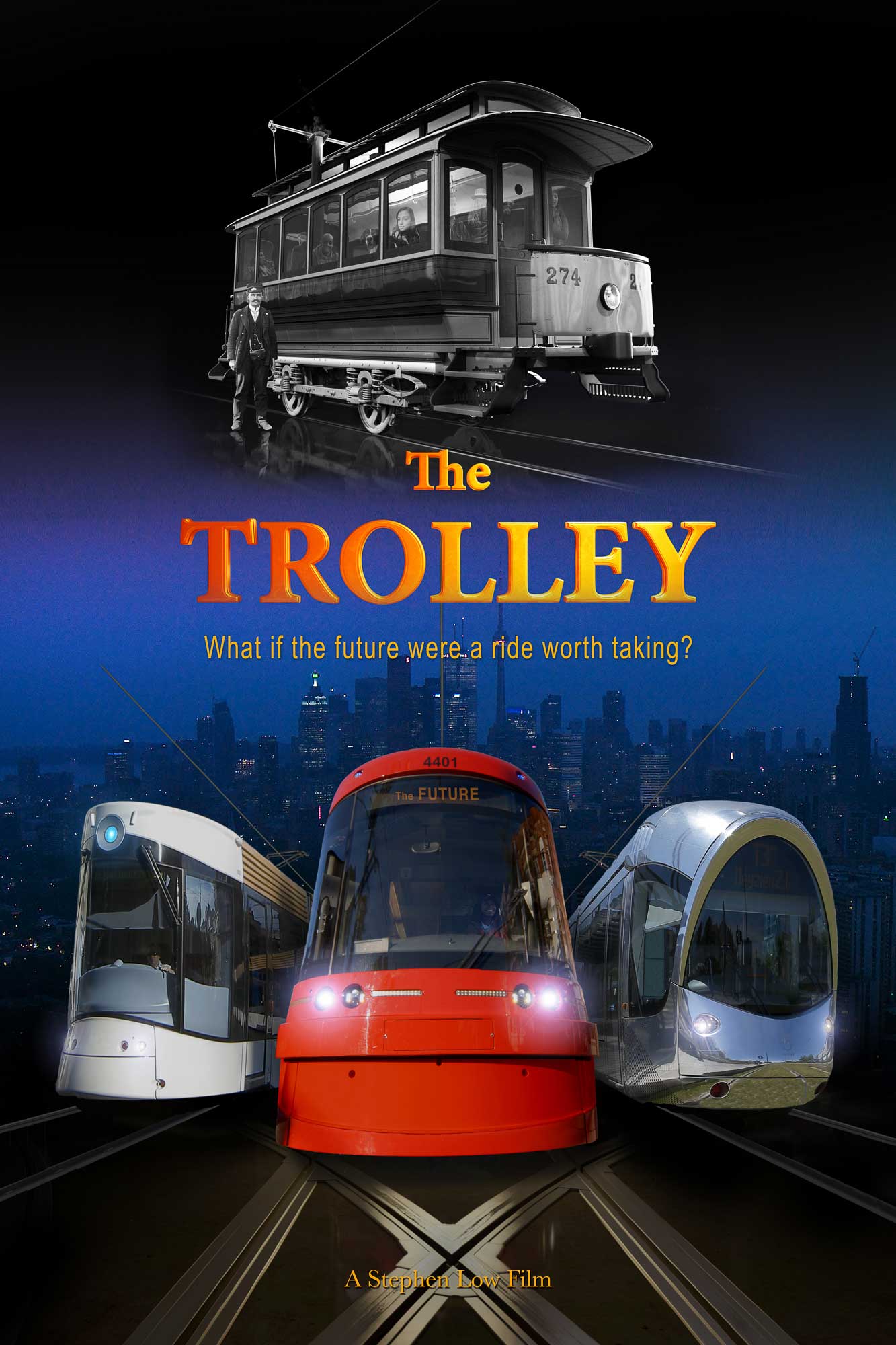 Synopsis
Perfected in the 19th century workshop of American inventor Frank Sprague, the first functional electric trolley was embraced as a miracle of the electric age—a device that could rid streets of suffocating piles of horse manure and flies and even re-invent civilization. And it did.
The electric streetcar, tram or trolley was a ride that changed everything. Across a century-and-a-half, trolleys carried billions of people to work and play and home again. Gifted with extreme efficiency and an egalitarian outlook, the device helped revitalize and re-build the urban landscape.
Created expressly for giant IMAX® screens The Trolley propels audiences on a kinetic, electrifying and music-charged journey through great cities across the globe, revealing the trolley's own roller coaster ride: from humble birth to explosive, world-transforming success, to near obliteration in the automobile age, to its technological renaissance in the 21st century. From the trolley's kinetic vantage, we witness a century and-a-half of explosive change and discover the hidden magic of the trolley itself.
Geared for giant screen exhibition in museums and science and technology centers globally, The Trolley addresses the history and technology of public transit and the evolution of cities—from the perspective of the electric trolley.
Electrified rail systems (trolleys, trams, light rail) offer unique potential for reducing greenhouse gas emissions while maintaining public mobility in a carbon-constrained world.
What kind of public transit is available to you? And what is the carbon footprint of your community? Does your community have a history with electric trolleys and what is the future of this technology in your area? Take the ride via the giant screen and explore the past and future of getting around.
Over the course of more than two years, the production team for The Trolley filmed in cities around the world, including Geneva, Lyon, Montpellier, Marseille, Nice, Milan, Toronto and Hong Kong. The film weaves together these live-action trolley journeys with computer graphic reconstructions, maps, aerials and a stunning array of archival footage and imagery to relate the historic role of the trolley across 34 cities in 15 countries.
Status
Release of The Trolley in giant screen theaters is scheduled for April 2018.
Releasing: April 2018
Running time: 45-min.
Director: Stephen Low
Producer: City of the Future Films Inc. / The Stephen Low Company
Distributor: Stephen Low Distribution Inc.
Formats: Available in IMAX® laser digital 2D and all digital 2D theatrical formats